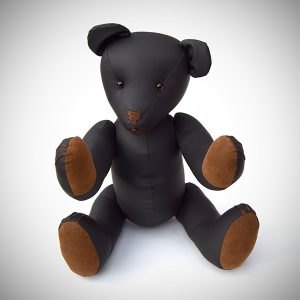 We are running a competition so you can win your very own version of our gorgeous Kinky Teddy Bear.
This beautiful bear is hand made and based on a traditional Victorian English Bear.  He will be a unique one off, hand crafted just for you and is not available for sale anywhere.  He will be hand stitched from our famous fluidproof fabric and is designed to show off its tactile feel.  You will be able to choose some of the other features of the bear including his eye colour, contract stitching colour and the fabric for the paws.
We have our very own Kinky Teddy Bear.  He is called Eric and is the first bear we made in our fabric.  We won't be parted from Eric and he will make regular appearances at shows and on line.  Be sure to look at for him.
The competition to win you very own Kinky Teddy Bear is being run for us by award winning blogger and journalist Cara Sutra.  This will give the greatest opportunity for people to win and be open internationally so lots of opportunities to win.
Name Your Kinky Teddy Bear
Our own special first Kinky Teddy is called Elvis.  We thought about other names for him and even asked all the good folks of Twitter.  We had lots of suggestions for a name and here are some of them in no particular order: –
Paddington Bare
Bare Grills
Jizzly Bear
Sheet Faced Bear
Macinsplosh
Dirty Beary
Spilly Billy
Cummy Bear
Trevor yes Trevor!
We loved some of these.  Paddington Bare took our vote out of all of them but we are going to stick with Elvis. We are sure you will be much more creative than we were and we would love to know what you will call yours if you win.
Good Luck!  Click Here to Enter.