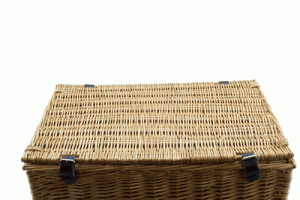 Everyone loves to receive gifts at Christmas and top of the list is a beautiful Christmas Hamper laden with festive goodies.  Well we think even better than that would be a beautiful hamper full of a selection of your favourite kinky goodies. Well we have good news.  Thanks to the fabulous team at Knicker Rocker Glory, now you can order your very own Kinky Christmas Hamper complete with one of our fabulous play sheets.
The Knicker Rocker Glory, Pure Decadence Luxury Sex Hamper, contains everything you need for indulgent, playful, erotic nights in. Highest quality handmade silicone sex toys in Festive gold from the guys at Godemice along with some award winning lube from Give Pleasure Products. The Kinkcraft crew have added a great selection of their crafted products.Include in the hamper are some strong yet playful handcuffs, a mini flogger, nipple sticks and a wax play candle.  These add lots of Kinky fun and for extra delight you have the option of having their products ready assembled or as one of their fun craft kits..
One of our luxury silky smooth, ultra strong, washable and breathable play sheets completes this fantastic Christmas Hamper.  This tactile sheet will take care of all the festive mess you can throw at it and then you can throw it in the wash.  You can even tumble dry it if you don't want the neighbours to know the kind of kinky Christmas you have been having.  Then again you may want them to join in!
Presented in a traditional wicker hamper this will make a great gift for the Kinkster in your life.  The quality of the packaging is matched by the quality of all the contents.  Oh yes and did we say all the products are manufactured here in the UK by a selection of companies who really believe in what they create.
Order yours on line at knickerrockerglory.com