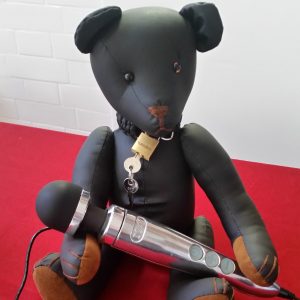 We attended Eroticon for the first time this year and what a great weekend we had!  Founded around 6 years ago by Ruby Kiddell, Eroticon has become the go to event for Erotic Writers, Bloggers and other Erotic Creatives and those who support them.  Taken over this year by a new management team and in a new venue in London, Eroticon provides a valuable weekend of learning, socialising and fun for the Erotic Community.
We were involved as a delegate sponsor for the weekend and helped a number of people get to the event who might not otherwise have been able to go.  We also attended for the weekend along with our mascot Elvis, the Sheets of San Francisco Bear who was a great icebreaker.  We sat in on a number of talks, met up with some old friends and made some great new friends and contacts and generally had a fun time into the bargain.  Elvis got to try out all the toys including the Doxy Massager seen here – He had such fun!
Next years Eroticon will again be held in London on 17th & 18th of March so be sure to add it to your diary, its already in ours!  We will be even more involved in 2018 and are already exploring ideas of things we can do involving our sheets.  Its going to be fun and I am sure Elvis will be there again.
If you have been before next years event promises tone even more exciting with some great new features and exciting new speakers so you really should visit again.  If you are an Eroticon Virgin now is the time to sign up and get booked in for next year, the information and support you find there invaluable in developing your career.
See you there!