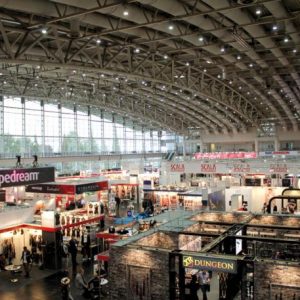 We are off to eroFame 2017, the annual erotic trade fair in Hannover Messe.  The fair runs from Wednesday 11th to Friday 13th this year and we will be on stand 188-190 alongside Doxy, Slube and Godemiche.  The stand will be a one stop shop of quality Independent Adult Manufacturers, and will be branded to reflect that under the IAM logo.
We will be unveiling our brand new four poster display bed for the first time at eroFame, designed to showcase our fluidproof sheets at their very best.  Manufactured from polished aluminium tube and cast fittings, its slightly industrial look will contrast with the sensual look and feel of our sheets.  There are lots of fixing points  so the bed is great with all sorts of accessories, and would make a great addition to any playroom.
We will also be showing our new bespoke covers manufactured exclusively for the renowned Sybian Sex Machine.  Manufactured from our unique printed fluidproof fabric, these covers are immensely practical, enhance the experience and look great giving a real luxury look to the Sybian.
Of course Elvis the Sheets of San Francisco bear will be on our eroFame stand.  He is never one to miss out on a trip and has his passport at the ready. As Elvis hates flying he will be travelling overland  with the team from SLube so has already travelled to Wrexham on the first leg of his journey. Elvis is an eroFame virgin so make him feel welcome if you see him.
Whether you are an existing client, a potential new client, or just browsing, we look forward to welcoming you to the stand, so pease call by and check us out if you are at the show.  There will be a warm welcome from all of us there.  See you in Hannover!